The Chamness Family of Companies
Together we are pursuing a vision of zero waste
Chamness Biodegradables is a member of the Chamness family of companies and is headquartered in Blairsburg, IA. We proudly make our products here in the USA in our manufacturing facility in Camarillo, CA.

We are dedicated to making the world a better place for all of us by responsibly making products from renewable and sustainably harvested materials.

From beginning to end, we are tackling the world's environmental issues.



---
The Chamness Family of Companies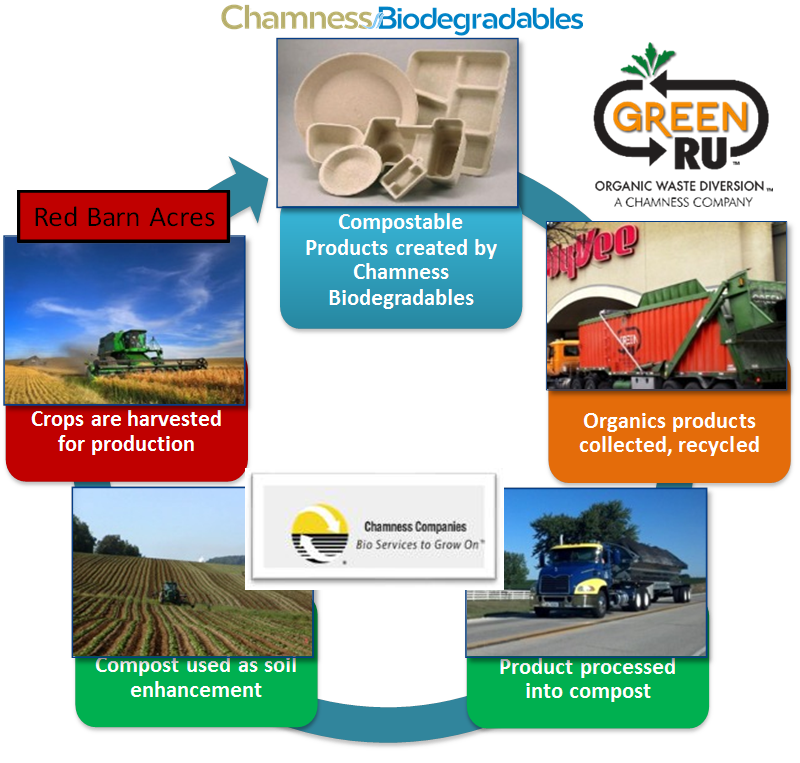 The Chamness Story
The Chamness family of companies--Chamness Technology, GreenRU, RedBarn Acres and now Chamness Biodegradables--are all dedicated to providing environmentally strong and sound solutions that make the world better. From manufacturing compostable products, to collecting materials to be composted to actually composting and then selling the compost, the Chamness companies
Make Sustainability Real™.
Chamness Technology, Inc. (CTI) provides economically and environmentally sound waste management solutions including composting, organics collection, recycling, beneficial use, and land application.
GreenRU partners with clients to create customized organic waste diversion systems for customers that reduce landfilled waste by collecting waste from customer sites and processing that food waste into soil enhancing compost.
RedBarn Acres is farmland and farming across America's heartland growing and harvesting the products that make America great.
​
Chamness Biodegradables: As the newest member of the Chamness family of companies, Chamness Biodegradables makes colorful and strong 100% biodegradable, both home and commercially compostable, and recyclable products like dinnerware and packaging.
To learn more, please contact us at
sales@chamnessbiodegradables.com
.
---
The Chamness Family of Companies

---
© 2017 Chamness Biodegradables, LLC